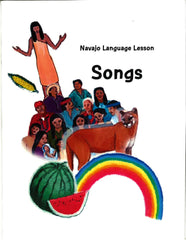 Navajo Language Lesson Songs
Navajo Language Lesson Songs, songbook with CD
Lyrics and Music by Cecelia Leeboy.
Songs arranged, produced and recorded by Stan Bronson. Illustrations provided by Theresa Breznau.
The Songbook includes booklet with lyrics for 19 songs and the CD. The songs are adapted from tunes that will be familiar to the students. All lyrics are in Navajo Language. Contains 28 pages; booklet is 8.5" x 11".
Cecelia Etsitty LeeBoy taught in the San Juan School District for more than twenty years. She often used music as a venue to teach her students. LeeBoy wrote or adapted all nineteen songs and recorded them for the CD.