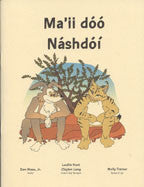 Coyote and Bobcat Coy - 1
 Coyote and Bobcat are always playing tricks on one another. In this traditional tale, readers learn how Coyote takes advantage of the sleeping Bobcat by rearranging Bobcat's appearance. What do you think happens then? Read this story to find out!
This is a full color paperback edition with story told by Don Mose, Jr. and illustrations by Molly Trainor. Purchase both the "Coyote and Bobcat" audio story CD and book for $13.00.
Pages - 30
Binding - paperback
Text - Navajo and English
Reading level - 4th to adult
Size - 8.5" x 11"