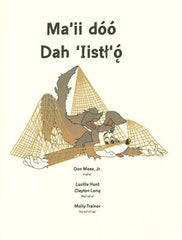 Coyote and the Loom
 When Coyote accuses the Navajo People of being lazy and worthless, the People made repeated attempts to trap Coyote in a net. In desperation, Spider Woman was called upon to help make a strong net.  This traditonal story will make you laugh! But you'll have to read it to find out what happens!
This story is told by Don Mose and the humorous drwaings are by Molly Trainor. The Navajo language translations are by Clayton Long and Lucille Hunt.
The audio CD of "Coyote and the Loom" can be purchased for just $5.00. Or buy both the book and the CD for only $13.00.
Pages - 32
Binding - Paperback
Text - Navajo and English
Reading level - 4th grade and up