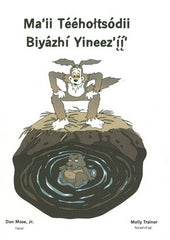 Coyote Steals Water Monster's Baby
 Once again, Coyote's curiosity and selfishness bring trouble to the world. In this traditional tale, Coyote angers the Water Monster. Read about what happens as the waters rise while the Dine and all the animals flee for their lives, ascending to the Fourth World. 
This story is told by Don Mose and illustrated by Molly Trainor. Lucille Hunt edited the Navajo version.
Pages - 40
Binding - Paperback
Text - Navajo and English
Reading level - 4th grade and up
Size - 8.5" x 11"