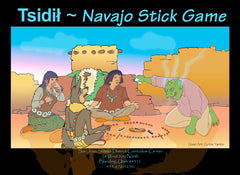 Tsidil - Navajo Stick Game
 Tsidil, the Navajo Stick Game is a group activity that can be enjoyed any time of the year. Navajo history and tradition relates that the stick game was a gift from Changing Woman, who had been taught by the Holy People, to her children, the people of the first four clans.
This set contains 25 sticks of different colors (so 25 students can play), 3 dice painted black and white, a bag of forty smooth pebbles, a spiral-bound copy of, "Changing Woman Teaches Tsidil to the Dine," and a set of playing instructions. Also included is a DVD of Jim Dandy, Sr. and fifth graders from Montezuma Creek Elementary School playing the Stick Game at the Aneth Community School hogan. In the DVD, Jim sings several traditonal Stick Game songs. The only material you need to supply is the "Mother Earth" or "Center" stone. This can be a palm-sized or larger flat rock that sits in the center of the circle.
This is a good large-group activity to follow-up on the history of clan origins and to teach traditonal stories.