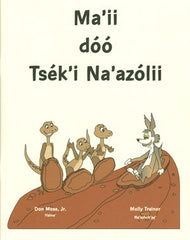 Coyote and the Lizards
 Coyote never listens to the warnings of his friends! In this tale, Coyote begs his Lizard friends to include him in their game. Readers will learn what happens to Coyote and why his fur looks so scroungy to this day. This traditional story explains the sacred purpose of the grinding stone and relates why only lizards should climb around and play on the rocks!
This story is told by Don Mose and illustrated by Molly Trainor. Clayton Long and Lucille Hunt are the Navajo language editors and translators.
The audio CD of this story is also available for only $5.00. Buy both the book and CD for just $13.00.
Pages - 40
Binding - Paperback
Text - Navajo and English
Reading level - 4th grade and up
Size - 8.5" x 11"