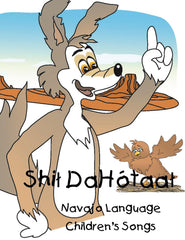 Shil Dahotaal - Dine K'ehji Alchini Dabiyiin ("Sing with Us- Navajo Language Children's Songs")
Shil Dahotaal" is a Navajo Language Songbook for children that includes a 25-page, illustrated, paperback booklet (8.5" x 11") and an audio CD.  The songbook and CD present 12 familiar children's songs, in lyrics and written score. This book is entirely in Navajo Language. Songs include:
Baa Baa Black Sheep
The Bear Went Over the Mountain
Teensy-Weensie Spider
Farmer in the Dell
The Birthday Song
If You're Happy and You Know It
Mary Had a Little Lamb
MacDonald Had a Farm
Rock-A-Bye Baby
Row Your Boat
Twinkle Twinkle Little Star
Where Has My Puppy Gone?
The songs on the audio CD are performed by Cecila Leeboy, a well-known language teacher from San Juan School District. Guitar melodies are performed by Stan Bronson. Translations and editing are by Lucille Hunt and Clayton Long. Kent Tibbitts transcribed the musical scores and Denise Frost modified and arranged the music to correspond with the Navajo language. Curtis Yanito from Bluff created the charming line drawings.